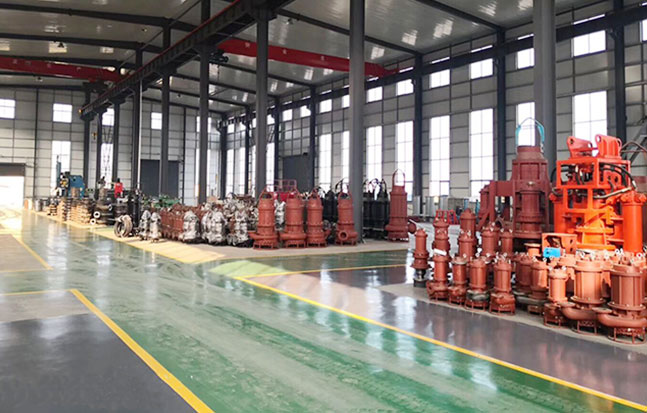 About Us
Welcome to Tobee Pump
Hydroman was founded by Tobee in 2008's as a manufacturer of heavy duty submersible slurry pumps in North of China. Hydroman mainly specialized in submersible slurry pumps, submersible sand pumps, submersible dredging pumps, Submersible agitator slurry pumps, Submersible Dewatering Pumps, Submersible sludge pumps, Submersible sewage pumps, hydraulic slurry pumps, hydraulic submersible dredge pumps, Excavator mounted hydraulic dredge pumps and all accessories like cutterheads, agitators, strainers, cooling jackets, excavator, sparge rings and hydraulic oil station etc.
Hydroman offers Heavy duty agitator submersible pumps and accessories in the Industry for handling slurries, rocks, gravels, sands, stones, sludge, mud,slag, minerals, bentonite, sewage, waste water and all other kinds of solids, with the shortest delivery times to world markets.
Over the past 20 years, Hydroman Pumps has been evolving based on our customer's excellent ideas and feedback. Tobee Pumps have been investing heavily in ourselves; attracting top talent from all over the world, streamlining our processes and our systems, partnering with top universities for cutting edge research in hydraulics, hydra-efficiencies, mechatronics and corrosion and abrasive material handling, becoming ISO 9001 certified and designing a new range of modular submersible slurry pumps.
In the submersible pump design and manufacturing industry, Hydroman could make a durable, high quality slurry pump capable of tackling the toughest abrasive applications that any industry could throw at it. Hydroman is a manufacturer that thrives on a good challenge, applying common sense, solid experience, and a sense of what's right to guide our problem-solving and practices.
Hydroman's proprietary advanced Computational Fluid Dynamics (CFD) program allows us the accurately design the most efficient impeller vane and volute profiles to ensure longer wear life and more efficient operation of your submersible pump.
It's a point of pride for us to ensure that when you work with us, you're not just buying a pump - but are gaining a partner.
Capacity
Hydroman® Pump has a wealth of experience in the manufacturing and service of pumps and accessories; in fact Hydroman® Pump has machinery manufacturing experience of over 45 years having achieved great success with R&D and manufacturing of Pumps for more than 20 years. The annual production capacity of pumps in our factory surpasses 10,000 easily. Hydroman® Pump has a tremendous market share that covers more than 120 cities in China including many provinces and autonomous regions and more than 80 countries.
Production Capability
Hydroman® Pump has over 80 sophisticated equipment such as CNC, Director reading Spectrometer, CMM (Coordinate Measuring Machine), Rapid typing Machine and etc. Based on these facilities, Hydroman® Pump has the abilities of material inspection, casting, welding, machining, assembling and the performance test of pump unit. The maximum weight of the casting by Hydroman® Pump is about 5 tons, the maximum diameter of the casting can be machined by Hydroman® pump is over 5 meters and the maximum flow rate of Hydroman's Pump product is more than 1,000 cubic meters per hour. With an annual production of 1000~1200 pumps, Presently, Hydroman® Pump is the top 10 pump manufacturer with high comprehensive capacity of design and producing.
Technical Capability
As a High & New Tech enterprise, Hydroman® Pump owns a municipal research center with strong R & D research capability and a team of more than 120 technicians along with 25 senior engineers and 17 experts etc. There are material laboratory, physical lab, chemical lab, 3D scanning equipment, MAXUM, 3D coordinate measure machine, metallographic analysis software, casting simulation software, CFD computer aided design, PLM (product lifecycle management), CAPP and etc. hardware and software in Hydroman® factory. In addition to these, Hydroman® Pump continually introduce new technology technologies to improve the products comprehensive performance, like Lost Foam Casting and Vacuum Casting technology.
Market Standing
Hydroman® pump's humongous market share and its unrelenting competitiveness in the pump market have made us rank Top 10 in China for many years and were also selected as the Pacesetter Enterprise in the Chinese Industrial Pump Industry. This warrants enough proof of our distinctive position in the pump market today.
R & D Capabilities
Since ours is a high tech enterprise of North of China, Hydroman® Pump has a municipal level research centre and has strong abilities in product research and development because of our powerful research team. We also like to profess that we have a long standing technical cooperative relationship with many renowned research institutions which only shows the strength of Hydroman's R&D capabilities.
Customer Evaluation
All the products manufactured by Hydroman® Pump are well received by our customers and have gained high appraisal from the society noting certain qualities of our products like energy saving, overall efficiency, stable operation and long service life. Some of our customers refer to Hydroman® Pumps simply as "Permanent Pumps" because of our quality and defect-free manufacturing ability.
Honors
1. Chinese Top 10 Slurry Pump Manufacturer
2. National Level II Measurement Unit
3. Advanced Enterprise in North of China
4. Trustful Enterprise on Contract Implementation in North of China
5. Manufacturing unit with the maximum Customer Satisfaction on both Quality and service in North of China
6. Production Quality Inspection-free Enterprise
7. Most Consumer Trusted Unit in North of China
8. Good Quality and Efficiency Enterprise in North of China
9. Top Super Credit Enterprise in North of China