Jul. 06, 2022
Not all submersible pumps are able to handle slurries. When you are dealing with high concentrations of solids that want to settle to the bottom of a pit or holding area, you need an agitator to add velocity around the submersible slurry sand pump, keeping the solids suspended for easier pumping and effective removal. An agitator for submersible slurry pumps delivers kinetic energy (energy of motion) to solids surrounding the pump intake, re-suspending them into a fluid state which would have otherwise buried and starved the slurry pump of liquid.

Hydroman® Submersible slurry pumps with agitator that assist smooth suction of the pumped media, and are the ideal pumping equipments to handle sand, sludge, slurry and other high density water mixed solids. Submersible slurry sludge pump adds a agitator at the bottom of pump body, so the submersible sludge pump can achieve high concentration delivery without auxiliary equipment. Hydroman® can also equip with control box for submersible agitor slurry pump for pumping out the sand, slurry, gravel, sludge materials out of the tanks or river.

Product features of Hydroman® Submersible slurry pumps with agitator:

▪ All water contact parts are all constructed with abrasion resistant materials – chromium alloy; so submersible mud pumps have better stability & longer service life.

▪ Unique mechanical seal device can prevent the electric motor from high pressure water and impurities; thus high suction efficiency can be ensured.

▪ Except the main impeller, two or three of extra agitators can be equipped to the main pump body to help break and mix the sludge, greatly improve the work efficiency

▪ Easy installation, operation and cost saving, no need additional vacuum pump or pump house.

▪ Professional technology support is provided during the whole process of the usage and maintenance.
Hydroman® Submersible slurry pumps with agitator structure: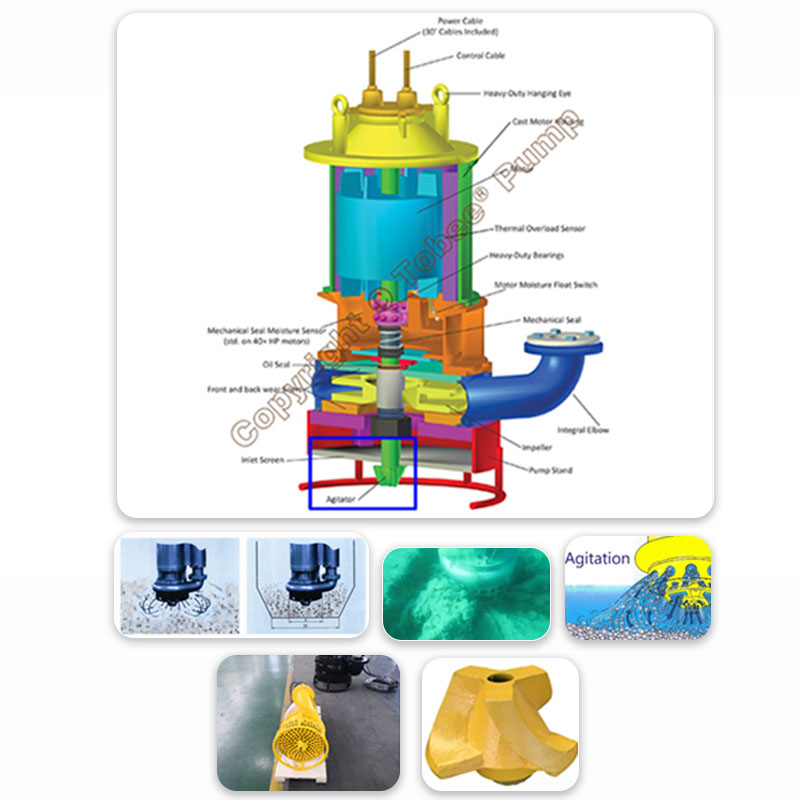 Hydroman® Submersible slurry pumps with agitator photo: