Stainless Steel Submersible Sea Water Pumps
SPECIFICATIONS:

Size: 50-400mm

Capacity: 7-2400m3/h

Head: 7-120m

Power: 0.75-315kw

Max. particle: 120mm

Agitator or Cutter heads: Available

Materials: High chrome, Hyperchrome, SS304, SS316L, Duplex SS etc.

Hydroman™ Stainless Steel submersible Sea Water pumps also known as stainless steel submersible slurry pump are designed to provide the mining and industrial processing markets with unparalleled resistance to corrosion and abrasion, polluted water in the sea or the rivers also requires these stainless steel submersible pumps. Hydroman™ submersible stainless steel slurry pump is an extremely durable, top-discharge slurry submersible pump with a mechanical agitator and wide clearances. This submersible slurry pump uses the pumped liquid to cool the motor. The pumping components of the submersible sea water sand pump, notably the agitator, impeller and wear plate are constructed of stainless steel,, meaning the submersible sand slurry pump is designed to be a solid workhorse in any condition.

Hydroman™ Stainless Steel submersible Sea Water Pumps Features

Best structure design of submersible sand pump, has a dry motor, IP68, double mechanical seals, equipped with an auto-cut protection, pump casting, outer cover is stainless steel, and acid-resistant silicon carbide seals.

The stainless series submersible agitator slurry pump is suitable for all light acid, corrosive and/or sea water application fluid in pH values between 4 to 10pH.

For strong acidity and alkalinity applications, please use the specified chemical vertical submerged pump.

Investment Casting Precision casting with the use of an advanced stainless investment casting method that produces the highest quality with a smooth surface finish.

Viton O-rings are used throughout the stainless steel submersible slurry agitator pump to give better pump life in corrosive acid and aggressive media.

Austenitic Stainless Steel – SS316 – water application of light acid-base.

Hydroman™ Stainless Steel submersible Sea Water Pumps Applications

Water supply

Draining water for ordinary place

Garden water

Sea water

Sewage lifting stations

Civil Wastewater

Industrial wastewater containing solids and viscous materials.

Heavy muds

Raw and fermented sludge.

Urban sewage plants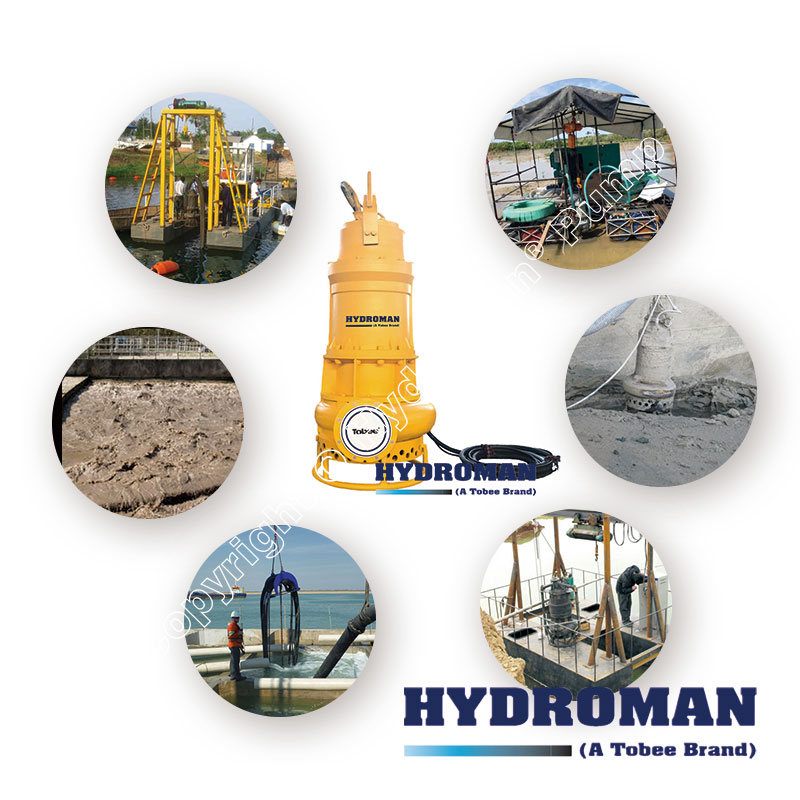 Hydroman™ Submersible Slurry / Sand / Sludge / Mud / Sewage / Dredging / Silt / Clay Pump: