Apr. 14, 2023
Hydroman® Submersible dredge pump for extracting clean sand at river site is specially used for dredging and sand pumping of river channels. Electric submersible sand solids handling pump is easy to move, flexible to operate, has the advantages of low cost and stable operation. Submersibel dredging sand slurry slag pump is used as a matching pump set for sand pumping ships, and can be equipped with diesel engines or electric sets according to user needs. Hydroman® TJQ submersible agitator sand pump maximum concentration of the conveying medium can reach 70%, and the particle size of the conveying medium can reach 80mm.

Hydroman® Submersible dredging sand slurry pump application case:

▪ Our Customer in Peru choosed our 8 inch submersible sewage sand agitator pump with cooling jacket to remove 1700kg/m3 specific gravity sludge include 55mm size solids in a waste water treatment plant.

▪ 10 inch submersible sand dredging pump used to harbour dredging operation by our customer in India.

▪ 3 inch submersible sand pump selected by one of our customers in Russia to clear sediment and water with sludge and sand in lake.

▪ Customers in Palau used Hydroman 6 inch electric submersible slurry pump driven by 220v, 3ph, 60Hz motor for pumping mainly water with some sand and silt with solids-25mm in a Sand mining plant.

▪ One of our Customers in the US ordered Hydroman THY series 4 inch submersible dredge pump hydraulic driven to mounted in their Bobcat excavator to handle desilting solids sand for narrow river.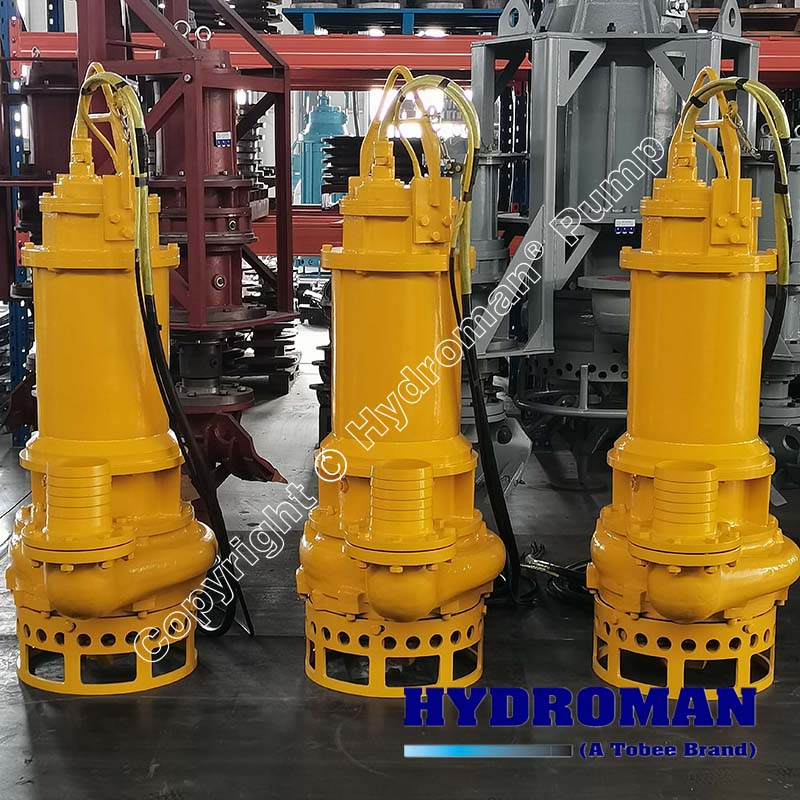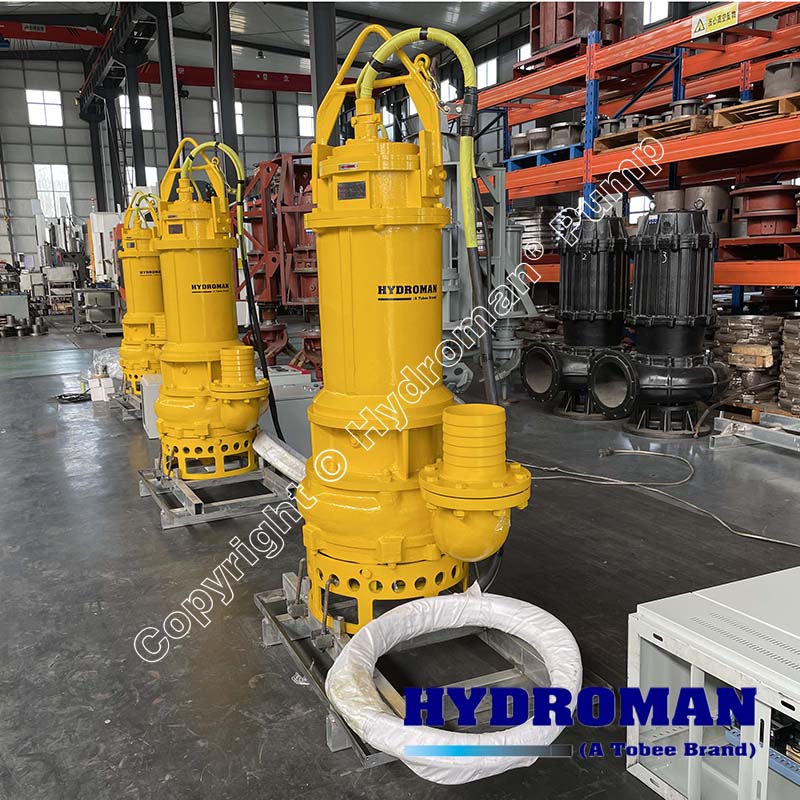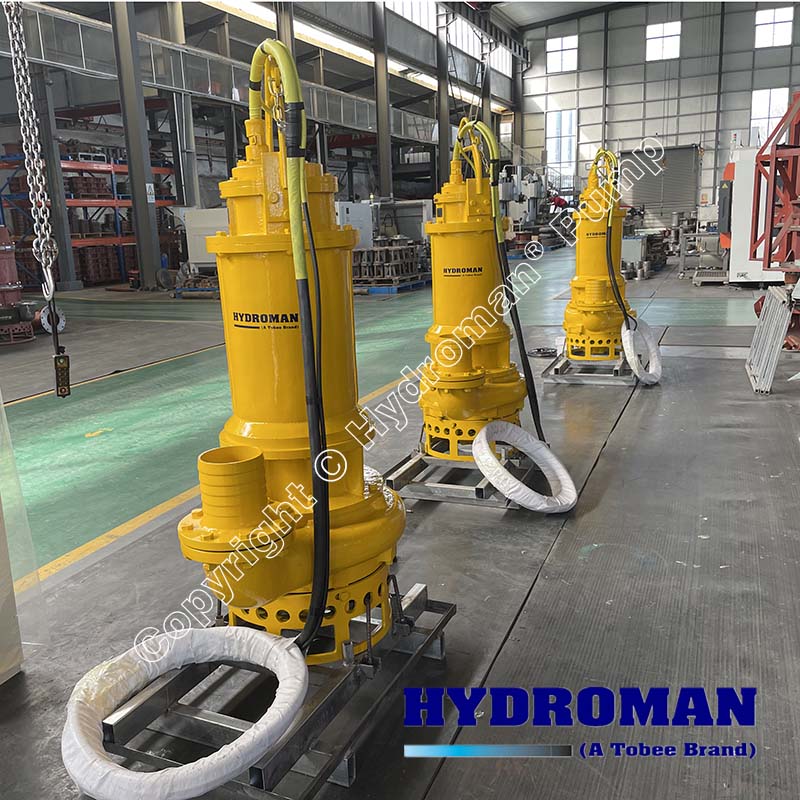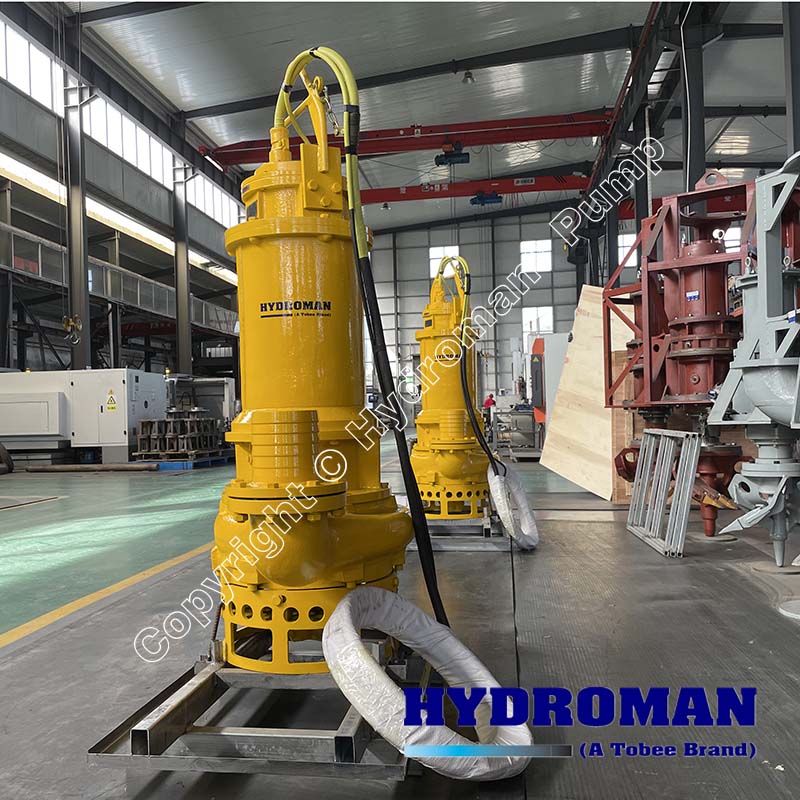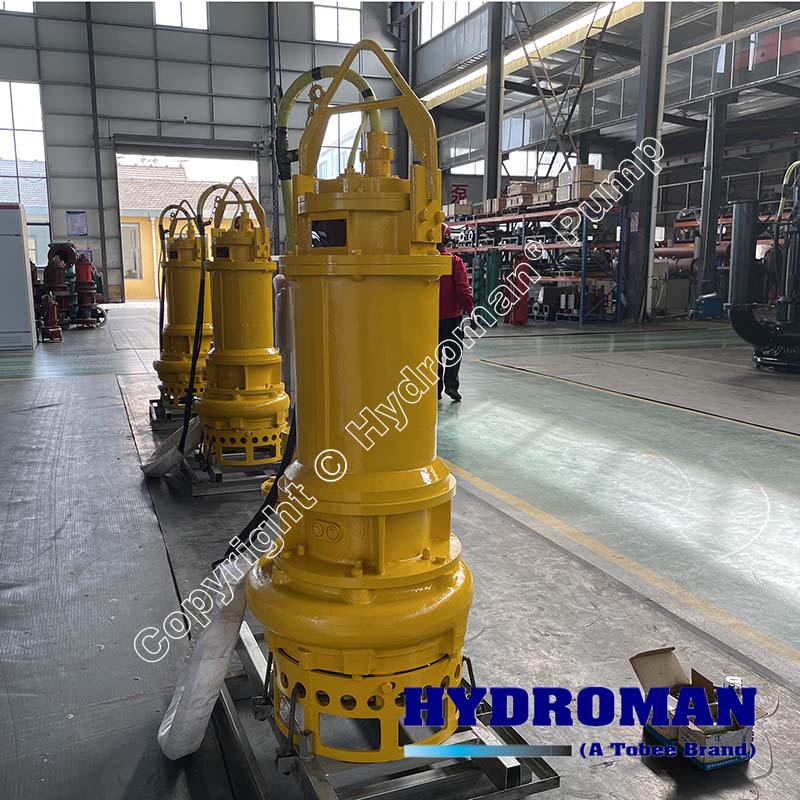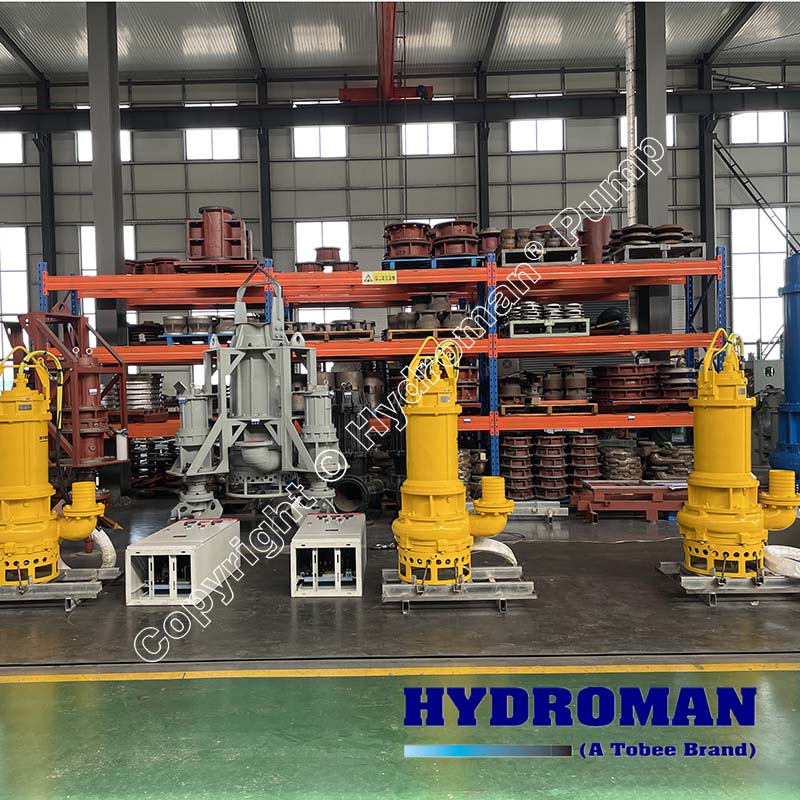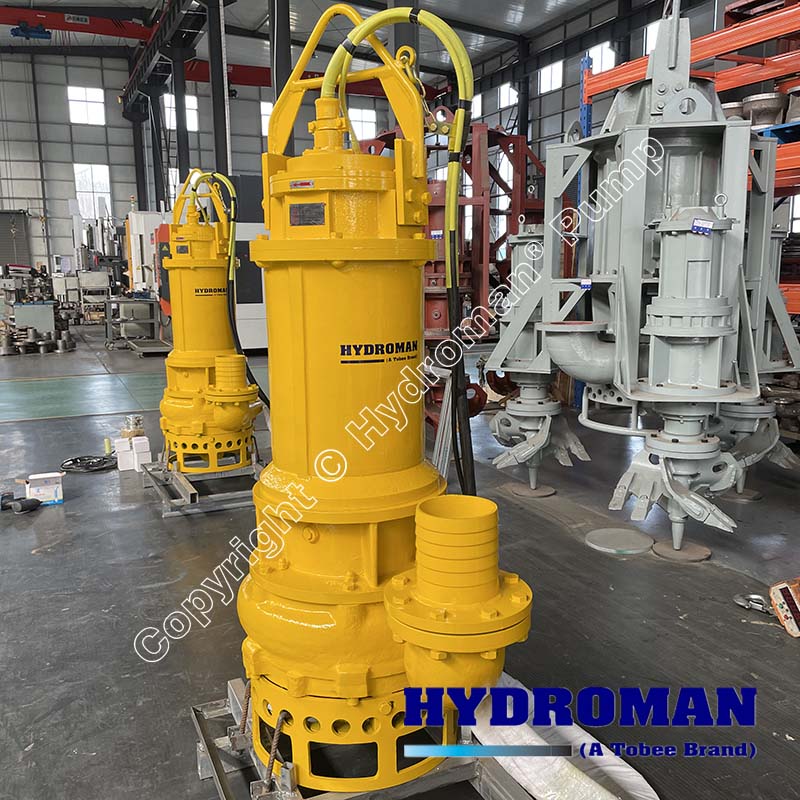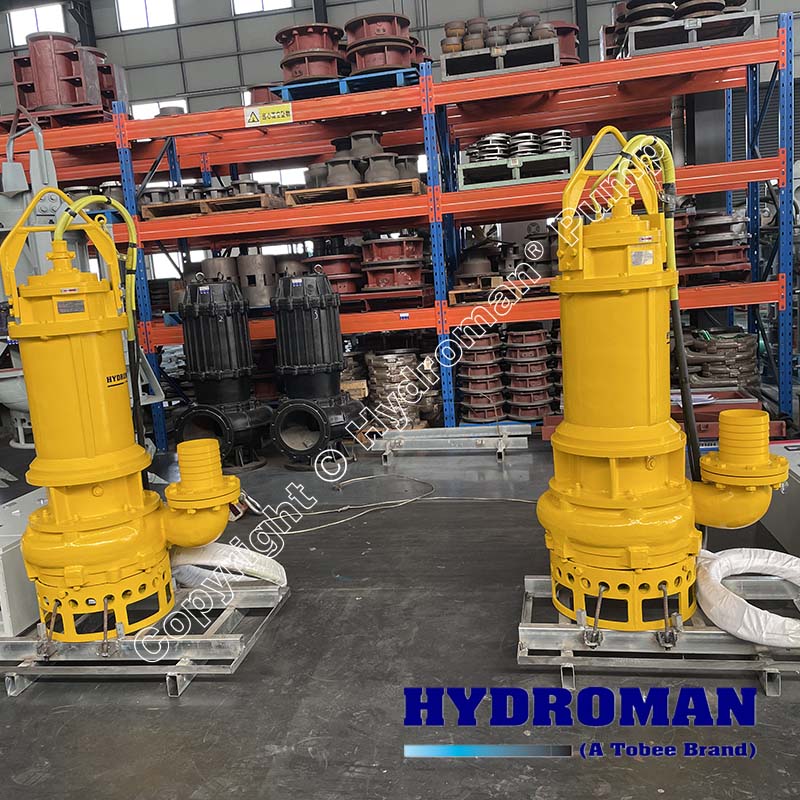 Hydroman® submersible dredge pump for extracting clean sand at river site applied range:

▪ Desilting of the dam bottom of the hydropower station:
There is a pool at the bottom of the dam of the hydropower station, which is often silted up with mud and sand, which is quite troublesome to deal with. Use submersible sand pump to directly put it into the pool to drain water, and discharge the sediment together with the water, so that the pool will no longer be silted up, and there is no need to manually clear the sand.
▪ Precipitation cleaning plan of concentrator:
The concentrator has many sedimentation tanks, emergency discharge tanks for accidents, material leakage and cleaning pools. Sediments from these sites need to be returned to the process or enter the tailings system. Because it is very inconvenient to clean and transport with large excavating equipment, it is often manually cleaned, which is labor-intensive and expensive.
Hydroman® submersible sand suction pump can stir the sediment into a slurry through the strong stirring with the stirring head, and pump it at the same time. It provides convenience for the cleaning of sediment.
▪ Clearing of scale deposits in steel mills:
Submersible desilting sediment pump for cleaning of turbid circulating water system and cyclone sedimentation tank oxide scale deposits in hot steel rolling mills.
▪ Underground water tank sedimentation cleaning plan --- solve the mine mud discharge problem:
Whether it is a metal mine or a coal mine, the underground main water tank needs to clean up the sediment before the rainy season every year. Manual cleaning is usually used to remove the sediment. The existing problems are high labor intensity, high labor cost, long cleaning cycle and affecting production. Select submersible dewatering mud pump to clean up the sediment and pump the mud to realize the mechanization of sediment cleaning.
▪ Pumping of mineral processing tailings:
According to the requirements of comprehensive utilization of mineral resources and environmental protection, as well as the potential economic value of tailings utilization due to technological progress, reprocessing of old tailings to recover valuable elements, and use of tailings as underground filling are becoming more and more popular. Using traditional excavator excavation, belt conveying, and silo feeding methods not only requires a large investment but also high operating costs.
The tailings recovery unit of the sludge pump adopts the new submersible mixing and mud pumping technology, that is, the powerful agitating impeller is used to stir the settled tailings particles into slurry, and then the submersible tailings sand pumpis used to pump it to the required place.
▪ Dewatering of mud at bridge and road construction sites:
Submersible desilting sludge mud sand pump used during engineering construction, drainage and sediment during bridge pier construction, urban rainwater pumping station, sewage treatment plant for Drainaging water with mud, sludge, sand, solids.
▪ Sand mining, dredging and slag removal:
Cleaning sand tanks in factories, clearing water tanks in mines, dredging rivers, mining sand by the sea, clearing sand in reservoirs, panning wells, removing steel slag, removing waste slag, removing fly ash in thermal power plants, discharging tailings, coal washing, mineral processing, gold panning.
As well as the cleaning of sedimentation in coal sinking pools of power plants, water slag transportation of blast furnaces in steel plants, temporary cleaning of solid sediments in oxidation ditch of sewage plants, sludge treatment of various sedimentation tanks, cleaning of sedimentation in discharge lakes of paper mills, and cleaning of inland rivers Sediment pumping, port seabed clearing and sediment pumping.