Hydroman® Heavy Duty Submersible Sand Pumps
SPECIFICATIONS:

Size: 50-400mm

Capacity: 7-2400m3/h

Head: 7-120m

Power: 0.75-315kw

Max. particle: 120mm

Agitator or Cutter heads: Available

Materials: High chrome, Hyperchrome, SS304, SS316L, Duplex SS etc.

Hydroman® Heavy Duty Submersible Sand Pumps are designed for moving slurry, sand, and other material with ease and without clogging. Submersible slurry pumps and submersible sand pumps from Hydroman offer the highest in quality and strength over other submersible pumps.The advantages of submersible sand pump is simple operation, self-mixing operation, strong anti-abrasiveness, energy saving, environmental friendly, low noise and low failure rate.Hydroman has offered products such as submersible sand pumps with a high-pressure water jet, large-particle submersible sand pump, submersible sand pump with side cutters, hydraulic driven submersible sand pump with side cutters, stainless steel submersible slurry pump and deep-well submersible sand pump.

Hydroman® Heavy Duty Sand Pumps are often applied on the dredger, ship or boat, it puts the electrical motor and mechanical pump on the same axis, the slurry pump bottom is equipped with a coaxial agitator. The pump is made of wear-resisting alloy steel with advanced structure. It has the characteristics of high efficiency, abrasion resistant, automatic coupling and long lifespan etc. It is powerful to discharge solid particles like sand and coal cinder.

Hydroman® Heavy duty submersible sand pumps characteristics:

Pumps have an agitator to put solids in suspension and stir it up.

Suitable for high head applications and deep water projects.

Electric submersible sand pumps are available in 50Hz and 60Hz versions.

Large impeller passages are used to transport solid particles, pulp, and large deposits of coal, mud, sandstone, and other media.

Supporting, control cabinet, can play on the sand pump motor water, overload, phase, leakage and other protection for ensure the working life of submersible slurry sand pump.
Hydroman® Heavy duty submersible sand pump construction: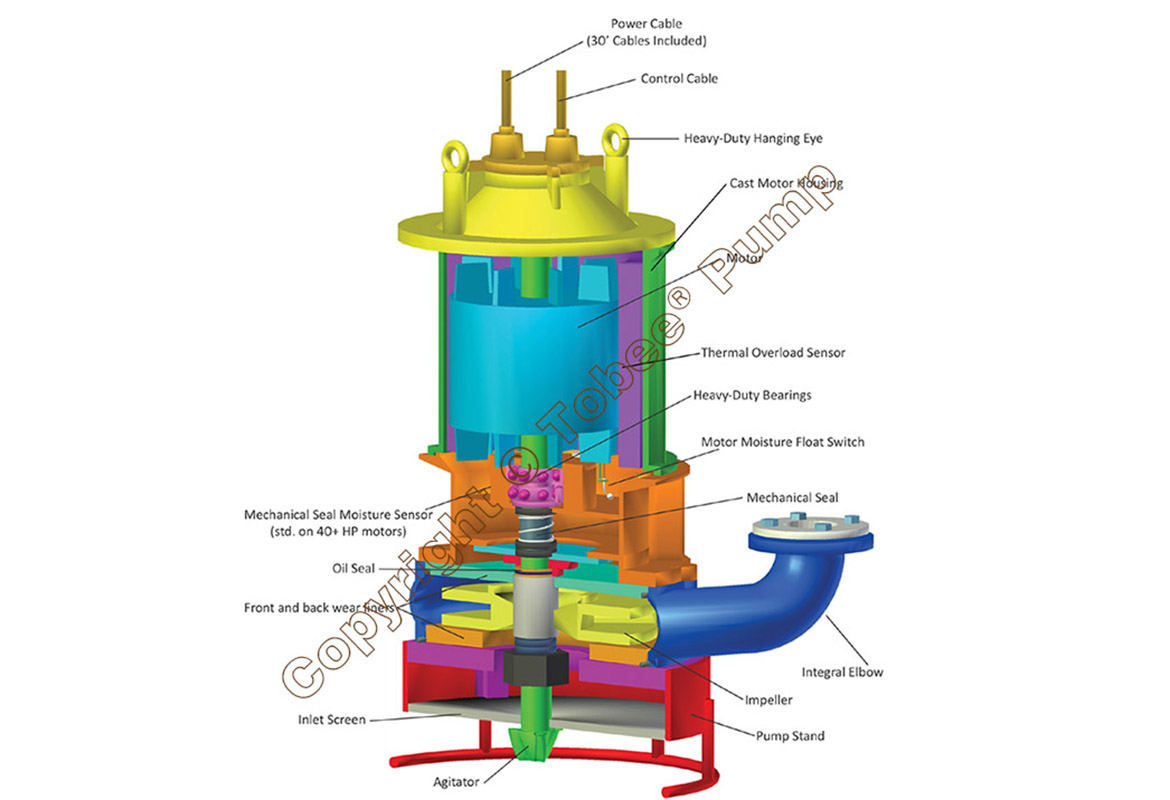 Hydroman® Heavy duty submersible sand pump testing: